Custom timber is our strength.
At our sawmill we can produce timber components to your exact specification - no job is too big or too small.
We can process timber that you provide, or can source virtually any type of wood from our extensive range of suppliers, at highly competitive prices.
Milling
Milling is the first stage of processing the timber.
There are essentially three different "cuts" that can be made. The choice of cut is primarily influenced by the intended use of the timber, and also the amount of waste that can be tolerated to produce the timber from the tree.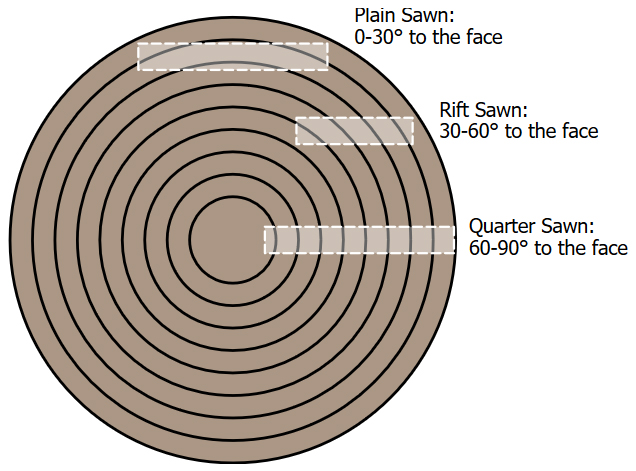 Plain / Flat Sawn
This is the most common type of timber. The cut maximises the amount of timber produced from the log, with almost all the log producing usable timber. The annular rings are usually 30 degrees or less to the surface of the board, giving a tangential grain. This is the cheapest cut of wood, and would usually be applied to softwoods that would commonly be found in general construction.
Quarter Sawn
Each log is sawn into quarters lengthwise. Each quarter is then sawn such that the growth rings intersect the face of the board at an angle of between 60 to 90 degrees.
Quarter Sawn wood has a very straight grain pattern and is highly dimensionally stable, making it easy to work with. Quarter sawn wood is also more resistant to moisture and less prone to raised grain. This cut would be used with hardwood for high-end furniture, flooring and cabinetry applications.
Rift Sawn
Rift Sawn wood is manufactured by milling to produce growth rings at 30-60 degrees to the face of the board, with 45 degrees being the most optimum, producing wood with a linear grain and no flecking.  Similar to quarter sawn timber, rift sawn timber is also referred to as radial grain. It is the most expensive cut of wood because of the high wastage. It produces very dimensionally stable wood. Applicable to hardwoods for high-end applications.
Thicknessing
We can thickness timber to between 8mm and ?? with high accuracy
Trueing
Cutting and squaring
Multi head moulding
We have a 4 station moulding machine that allows us almost unlimited flexibility to profile your wood to your exact specification. We manfacture the custom cutting bits on-site.

This allows us to provide mouldings for all types of flooring, ceiling and window requirements.